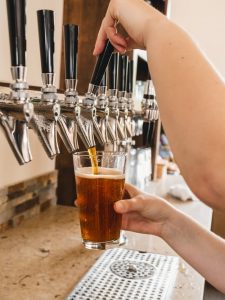 Photo by Meritt Thomas on Unsplash
Brewhaus coming to the Giddings Depot Complex!
The old Sterling Theater building in downtown Giddings will soon be transformed into Giddings Brewhaus, a German restaurant and brew pub boasting five new brews and a tap wall with up to 24 different beers.  The Lee County project is being directed by Robert Zoch Jr. and his son Robert Zoch III. The elder Zoch has experience working in commercial breweries and has a chemistry degree.   The family has extensive experience redeveloping historic properties and entrepreneurial endeavors.
The Sterling Theater building is one of four buildings located in the Giddings Depot Complex, and renovations are planned to  preserve the building's historic character.  Plans for the renovation include retaining the building's original footprint, viewing screen and most of the original exterior.  There will be a brewing room with glass walls for the public to see the brewing equipment from within the restaurant, along with a new kitchen, and additional restrooms.
In 2019, the Dime Box Distillery Tasting Room and Bottling Operation opened in the adjacent freight station in the Giddings Depot Complex and has been used for manufacturing during the pandemic.  Plans are underway for improvements to the two remaining buildings, one of which will be converted into a Lee County heritage museum.
The company will also promote Downtown Giddings as a tourist attraction and, through a separately owned business, Zochnet, is providing technical support to create an "internet hotspot" throughout the complex.