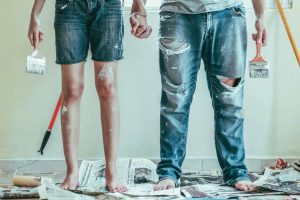 Photo by: Roselyn Tirado on Unsplash
DIY Projects to Help You Improve Your Home
Thinking of putting your home up for sale?  Selling your home can be a daunting task, but there are easy and simple ways that can help increase it's value, appeal and attract more home buyers. In this article, we will cover nine do-it-yourself projects that can help you sell your home more quickly and for more money without having to spend too much money, time, or energy on it.
Ready to get to work?
Modernize those fixtures.
You may not mind the light fixtures that came with the house when you bought it, but potential buyers may find them distracting and dingy depending on their style. Other installments, such as doorknobs and switch plates can use a good sprucing up as well. Faucets and cabinets are other features of the house that could make it or break it for a possible buyer. These characteristics of your house are not the most essential parts, they tend to be in areas where people can widely notice them.
You certainly don't need to bust your budget on modernizing these fixtures, but you can decide what needs to be updated the most and go with that. Areas in the house that are highly important (and scrutinized) by buyers are the entryway and kitchen, so you can definitely focus your efforts there.
Check your blinds.
Much like the first point, this section is referring to the state of your window treatments: are they in need of some modernization as well? If you're worried about energy efficiency as well as expense, there have actually been quite a few improvements made in the blinds industry that help out with these concerns.
Even though blinds have gotten "smarter," meaning they've integrated more technology into their design, there are quite a few window coverings sold that can be easily installed by homeowners. Companies have designed blinds to be more energy-efficient and stylish, giving you even more options to choose from.
Inspect your bathroom mirror.
In bathrooms, the mirror is one of the most significant focal points, so take advantage of it and grab your buyer's attention. If you'd like an easy fix, you can consider painting the frame or putting a frame around your current one – if it needs it.
If you don't mind purchasing a new mirror, make sure that you check to see how your current one is mounted. It is possible that it could be more difficult to remove than you originally thought, especially if it is glued to the wall. Once you've got an idea of the measurements and mounting-situation, you can decide what type of mirror you'd like to be there instead. In the same vein, you may want to consider getting a mirror with lights wired into it for better lighting.
Consider carpet cleaning.
Depending on how old your house is, your carpet could be holding years of dirt, dust, and plenty of other things. If you are not up for ripping up your carpet and replacing it with tile or hardwood flooring, then it may be best to give your floors a wash.
It's highly recommended to vacuum your carpet often, but in this case, try to do it weekly. Getting on the floor and applying a deep shampoo may not be your favorite pastime, but it is an inexpensive option taking only 20 minutes or so of your time in each room that has carpet. If you'd really like to pass the shampoo onto someone else, you can also rent out a carpet-cleaning machine to save you the time and effort.
Organize and optimize your closet.
Buyers are very interested in just how much closet space your house has to offer. For some people, small or awkward closets can be an immediate disadvantage to the house and influence their ultimate decision. Remodeling your closet can add more than $1000 of value to your home, so you may want to take initiative on that!
If you don't have the money or the space to remodel your closet, do what you can with what you have. Take this opportunity to show the best way to utilize your closet to help buyers understand the positives rather than focus on the negatives. You may want to invest in bins or organizers instead in order to help your closet lift its appeal.
Update your paint.
An easy way to rejuvenate your house's appearance (both inside and out!) is adding new paint. Painting can help rooms become larger, so that's definitely to your advantage. Be sure to pick some neutral colors so that you reach more buyers who will like it.
You can usually depend on cool neutral colors to add to your house's appeal instead of taking away from it. However, keep in mind other factors at play, such as your current architecture and design inside and outside. Don't update your paint to a neutral color that clashes with the set up you already have.
Wash the outside of your house.
Cleaning the inside of your house makes sense, but keeping up with the outside doesn't seem as integral. When it comes to making your house presentable to buyers, that first impression can mean quite a bit. If your house has any parts to it that are white or can show dirt easily, you will want to make sure that those spots are dirt-free.
If you're not feeling up to a good scrub with some soapy water, you can also rent a pressure washer to help you get the job done. The pressure washer can even help you remove dirt from your porch, sidewalk, and driveway.
Plant some new trees and flowers.
Upgrade your curb appeal by adding plants to your front lawn. As they drive up, buyers will be happy to know that your lawn is healthy. If you need to replace your grass with new sod, it will definitely be worth the investment.
It's also important to consider adding a tree or two to your landscaping, especially if you don't already have any. A front lawn filled with blossoming plants and trees not only helps your home increase in value, but it also helps the homes around it look better.
Upgrade your tech.
With the upgrades in technology for home security and regulation, there are plenty of options to choose from. If your home already has smart thermostats, smoke detectors, and lightbulbs, buyers may be more inclined to go with your property over another.
Home technology also extends to security cameras and even automated locks. You can even choose to go with devices that connect with your online accounts, such as Amazon or Google. With these enhancements and features, you can impress buyers with your home's technological upgrades.
Contact Us
The Team at Schultz Texas Properties would be happy to help you as you take the first steps towards purchasing your Texas home or country property.  We understand what it takes to make yourself financially stable, and if you are getting ready to buy a new house, we will be happy to give you contact information for lenders in Houston, Austin, and anywhere in between who all have differing mortgage products and rates you can choose from.
Schultz Texas Properties serves Lee, Fayette, Bastrop, and all surrounding counties, so if you are looking to buy or sell a home or country property in those areas, please visit us at our Lee County office in Giddings, our Fayette County office in La Grange, or our Bastrop County office in Smithville. We look forward to working with you!