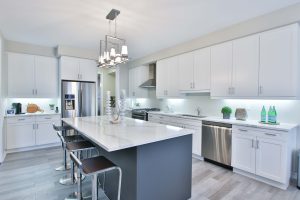 Photo By: Sidekix Media on Unsplash
Home-buyers Are Looking for These Features!
Last year ended up being a great for the housing market, and most agents see this trend continuing. The arrival of vaccines, low mortgage rates, and remote work are the top causes behind the home-buying rush.
With so many looking to buy and sellers becoming more comfortable with listing and opening up their homes, here are some of the hottest kitchen, bath, and outdoor trends you can expect to see:
Spacious kitchens for home cooks 
The stay-at-home orders across the country had people everywhere seeking comfort in their home kitchens. Whether it was simply because they preferred to stay in or because they were looking for a new hobby, cooking trends were clearly on the rise. So it's no surprise that home-buyers are looking for more space in a new kitchen.
More counter tops and lots of storage are the main priorities of home-buyers this year. According to the top agent insights survey, kitchen islands are the most popular trend among home-buyers. Walk-in pantries are a close second, and significant drawer and cabinet storage continues the spacious kitchen trend.
Bathrooms equipped for busy homes
Double sink vanities are the number one bathroom feature home-buyers will be looking for.  Since buyers seem to be prioritizing storage in the bathroom as well, it's no surprise that a linen closet ranks high on the list also.  The fact that more family members are at home more often seems to be driving this top trend.
Updated showers with rain and dual shower heads are also near the top of the list of bathroom trends.
Creating outdoor havens  
With so many people spending more time at home, many buyers are looking for an outdoor place to relax as well.  A private outdoor area with a fence or hedges is desirable here where warmer weather means almost year-round use of the outdoors, and a full outdoor kitchen is the number one trend home-buyers are looking for.
Also, a fire pit is near the top of the list of items home-buyers are looking to enjoy in their outdoor havens.
The Team at Schultz Texas Properties has many more ideas to help you with any real estate question or need!  If you just need information, have questions, or are looking to buy or sell a home or country property, please visit us at any of our offices, or contact any of our team members at www.schultztexasproperties.com.  Our team of experienced Brokers and Agents is looking forward to helping you!