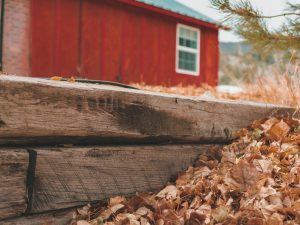 Photo by Elizabeth Explores on Unsplash
Get outside and have fun in your yard and increase the value of your home!
The cool weather is bringing home and land buyers out in droves to our rural markets! We are enjoying it so much and it is so invigorating!   If you are thinking of selling property, now is the time!
Not only on the real estate market, but the cooler weather can also have a big effect on your yard and garden. As leaves begin to turn and the heat starts to dissipate, you will need to be sure your plants will be ready for the cooler weather.  Setting your sights on doing the necessary prep work at summer's end will help your lawn thrive through the end of fall and beginning of winter. Another benefit is that these maintenance items are relaxing, giving you enjoyable time outside in the fresh, crisp breeze to work on making your yard and garden beautiful!
Below are five steps you should consider taking now. September and October are great times to get outside since the heat and humidity are fading. Whether you have a large producing garden, a small lawn, or anything in between, here are some important steps:
5 Important steps to ensure your yard and garden will be ready for the cooler weather:
PREPARE YOUR SOIL

Soil
The grass and plants in your yard and garden soak up nutrients from peat moss and compost during the summer when plants grow quickly.  This is the time to replace that layer by mixing some new soil with what you have left from summer.  Mixing these will create a nutrient-rich soil that will give your plans a great start when they return next spring ensuring a new year of hearty plants.
Fertilizer
For grasses to return strong in the spring, they need attention now.  Although it can seem counterintuitive to fertilize the lawn when it just stopped growing, it is important to do it before it soon.  This will repair damage that occurred during the summer, since hot weather taxes the roots of all plants.  Fertilizing in fall will make your lawn and garden stronger when it comes back to life next year.
Grass
If all or just a portion of your lawn has stopped growing in the heat, it's best to reseed it now rather than waiting until it gets hot again. Young grass is a tender plant, so if you plant it during the summer heat it won't stand much of a chance of growth.  Reseeding when the cooler weather comes will yield great results in the spring.
Perennials
Of course, different types of plants require different types of care.  To keep most of your flowers looking gorgeous next spring, you need to remove faded blossoms and prune vines entirely now. However, roses don't necessarily need much attention now, since new blooms may arrive sooner than desired and freeze.
Gear
Different times of year call for different yard and garden tools, fertilizers, and chemicals. The transition of seasons is the time to reevaluate to make sure your perishable items are still fresh and not expired so they will maintain their quality for the next season. Lawn and garden tools need regular maintenance as well. Paying attention to these things now will avoid headaches down the road.
And remember, a nice yard adds value to your home!
Taking care of your landscape can not only personalize your yard to make it feel more like your home, but it adds value to your property as well and makes buyer's more likely to want to visit your home in person.
If you are thinking of buying a home or selling your current property, the Team at Schultz Texas Properties wants to help you!  If you need information, have questions, please visit us at our Lee County office in Giddings, our Fayette County office in La Grange, or our Bastrop County office in Smithville.  Our team of experienced Brokers and Agents serves Lee, Fayette, Bastrop, and all surrounding counties, and we look forward to helping you!