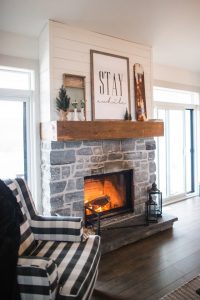 Photo by Jessica Johnston on Unsplash
Six Quick Fall Maintenance Items for your Home
Happy Labor Day from the Team at Schultz Texas Properties!   With Labor Day comes thoughts of football and fall!  It's also good to think about maintenance items for your home as the weather begins to get cooler.  These tasks will be more enjoyable to do as the temperatures begin to drop, so why not make a plan now to get some fall maintenance tasks done on your home?  By completing these six quick items, you will enjoy the comforts of your home and your home will be ready for the winter to come.  Our Team wants to be your source of information for all things relating to your home, and to provide tips to help you protect your largest financial investment!
ROOF
Check for damaged or missing shingles. Wind, water, snow and ice can cause serious damage.  If your roof needs repair, then there is a greater chance of further damage inside your house.  While you can use binoculars to do an initial survey from the ground, a professional inspector or roofing contractor is your best source of information.
WATER SOURCES
Store drained garden hoses indoors, and turn off exterior faucets.  Be sure all outdoor pipes are drained as well.
FIREPLACE
It is a good idea to have the fireplace and chimney professionally inspected and cleaned every year if you use the fireplace a lot, of if you don't use it very much then you should have it checked at least every other year.
CAULKING
You want a tight seal around all exterior windows and doors, so be sure caulking is intact around all exterior window frames and doors.  Be sure to inspect for openings where wiring or piping enter the home.  These spaces need to be caulked to protect from insects, rodents, and water.
GUTTERS
Check for sticks, leaves and any other debris, and clean them out. If your home sees lots of falling leaves, you made need to do this several times during the fall. Consider installing leaf guards, which can save a lot of time since they prevent your gutters from getting clogged in the first place!  And always be sure that all downspouts direct water away from your house.
FURNACE
Have an HVAC professional inspect your heating unit to ensure that it is safe and in working order. Be sure to replace disposable air filters regularly, or if a permanent filter, be sure to clean them according to the manufacturer's instructions.  Utility companies typically provide simple, no-cost furnace inspections to their customers, and they may also provide free energy audits for additional energy saving ideas.
The Team at Schultz Texas Properties wants to help you!  If you just need information, have questions, or are looking to buy or sell a home or country property, please visit us at our Lee County office in Giddings, our Fayette County office in La Grange, or our Bastrop County office in Smithville.  Our team of experienced Brokers and Agents serves Lee, Fayette, Bastrop, and all surrounding counties, and we look forward to helping you!